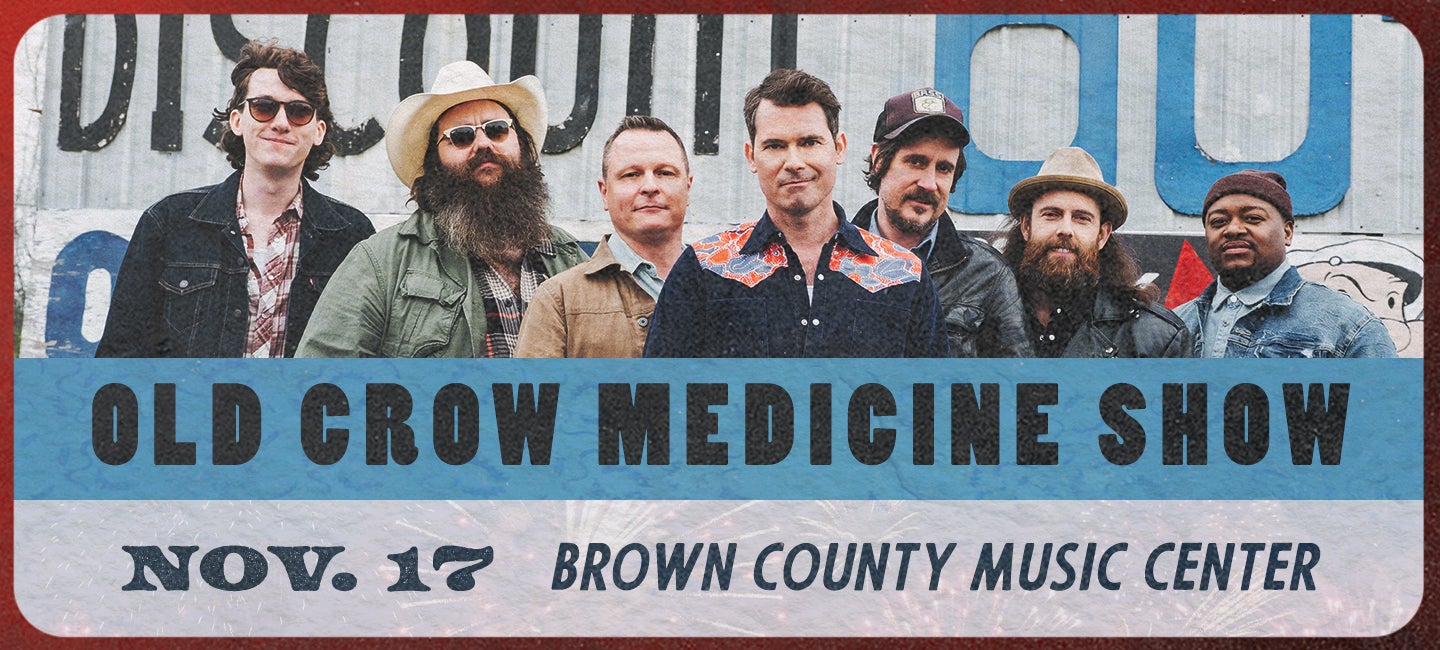 Old Crow Medicine Show
Old Crow Medicine Show
Date

Nov

17

, 2023

Event Starts

8:00 PM

Availability

On Sale Now
Event Details
One of the most potent and influential forces in American roots music, two-time GRAMMY Award-winning band Old Crow Medicine Show will be live at the Brown County Music Center in Nashville, Ind., on Friday, November 17, 2023.
Since getting their start busking on street corners back in 1998, over the last quarter-century Old Crow Medicine Show has brought their sublimely raucous live show to rapturous audiences around the world and toured with the likes of Willie Nelson and John Prine, all while amassing an acclaimed catalog that includes such standouts as their double-platinum hit single "Wagon Wheel." Arriving as the Nashville-based six-piece gears up to celebrate their 25th anniversary, Jubilee finds Old Crow doubling down on their commitment to creating roots music that bears an undeniable urgency. "In a lot of people's minds folk music seems to be relegated to a place of supposed purity, but we've always wanted our folk music to be the soundtrack to real living rather than something stuck behind the glass in a museum," says frontman Ketch Secor. "We'd much prefer to smash that glass and take those instruments back to the street corners, maybe break some strings and bleed on them a bit. To us music works best when you sing it loud and hard and lusty until your throat gets sore—it's meant to hurt when it comes out right."
Old Crow's eighth studio LP, Jubilee serves as something of a companion piece to Paint This Town—a 2022 release that marked their first time cutting an album with band members Jerry Pentecost, Mike Harris, and Mason Via. Featuring guest appearances from legendary soul singer Mavis Staples and singer/songwriter Sierra Ferrell, Jubilee is a wildly expansive body of work encompassing everything from jug-band tunes to Irish folk songs to exultant gospel jams, each touched with Old Crow's dazzling musicality and poetic yet powerfully trenchant storytelling.
As Secor reveals, Old Crow's boundless passion for imbuing a timely vitality into traditional music has played a major part in the band's longevity. "Being the type of songwriters and performers that we've always been, we tend toward the topical material and what's going on right now—the issues currently faced by our species, our country, our beloved Southlands," he says. "I think the artist's job is to dip their quill into the reservoir of the now, and for Old Crow that reservoir is deep: we might end up pulling up some Lead Belly colors, some Gene Austin colors or some Paul Robeson. So as long as these things keep happening in our world, and as long as banjos are around to be plucked and fiddles are there for us to drag a bow across, you can bet we'll still be interested in making this kind of music. At this point it's just our second nature."