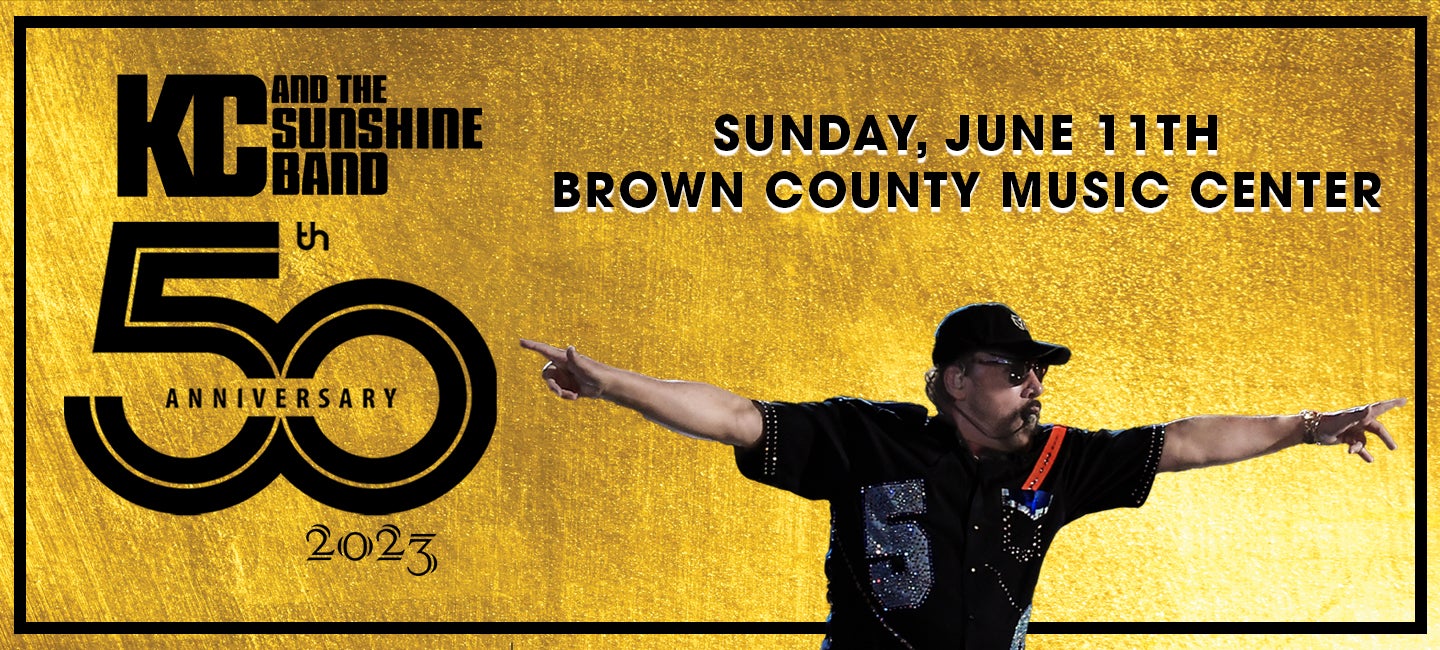 KC and The Sunshine Band
50th Anniversary Tour
KC and The Sunshine Band
50th Anniversary Tour
June
11
, 2023
KC and The Sunshine Band
50th Anniversary Tour
Date

June

11

, 2023

Event Starts

7:30 PM

Availability

On Sale Now
Event Details
Still as widely popular today as they were when they first danced into the music scene 50 years ago, KC and the Sunshine Band will be live at the Brown County Music Center in Nashville, Ind., on Sunday, June 11, 2023.
KC and The Sunshine Band celebrates 50 years of making booties shake. They gave a voice to a generation, helped define an entire culture and continue to make an impact today. With over four decades of success, the group, led by Harry Wayne "KC" Casey, has been in a state of constant renewal in their niche of cultural relevancy–thanks in part to their music being featured in numerous motion picture soundtracks, television shows and national advertising campaigns. KC and The Sunshine Band formed in 1973 with one single purpose: to create instant happiness through music - and the group has done just that, topping the charts with singles including "That's the Way (I Like It)," "Get Down Tonight," and "(Shake, Shake, Shake) Shake Your Booty," tallying worldwide sales of over 100 million, and receiving numerous awards. In 2013, KC was honored with two distinct Lifetime Achievement Awards, made several television appearances and earned a new star on the Palm Springs Walk of Fame in his home state of Florida, which accompanies his previously awarded national recognition of a star on The Hollywood Walk of Fame. KC and The Sunshine Band continue to tour heavily throughout the U.S. and internationally, as well as collaborate and appear with other superstars. Harry Wayne Casey (b. January 31, 1951) – KC for short — got his start while working at the record store at TK Records in Hialeah, FL, where he often made deliveries and completed other odd jobs, hoping to be able to spend time in the studio after hours for free. There, he met Henry Stone, and in 1973, signed a contract with TK and formed KC and The Sunshine Band". The result was the development of a unique fusion of Caribbean, R&B and funk music dubbed the "Miami sound" – a sound that grabbed the hearts and minds of listeners and compelled them to get out of their seats and onto the dance floor!
With nine Grammy nominations, three Grammy Awards and an American Music Award, KC and the Sunshine Band was one of the most progressive bands of the 70s and is credited with changing the sound of modern pop music. Today, KC and the Sunshine Band play over 100 live shows annually, circling the country and playing dates regularly throughout Europe, Australia and South America. This year KC will celebrate 50 years of entertaining us, writing songs, and performing around the world and has no intention of stopping.