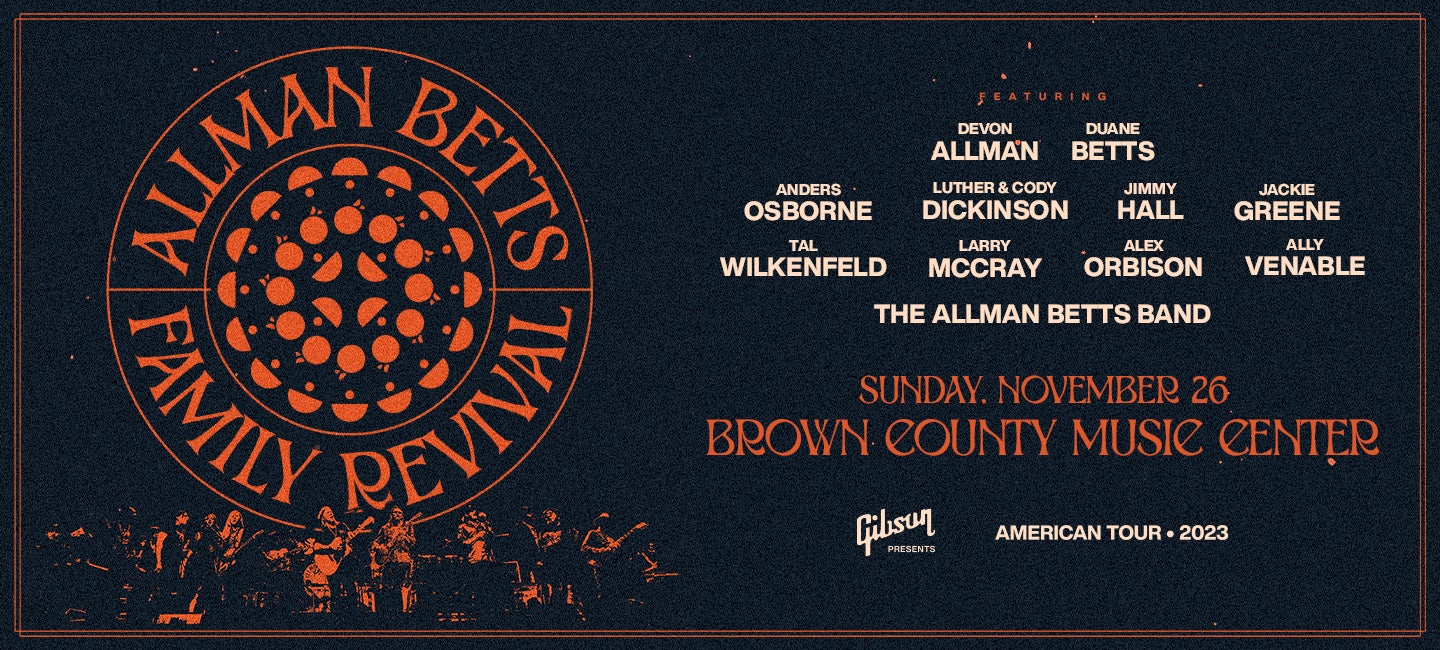 Allman Betts Family Revival
Featuring Devon Allman, Duane Betts, The Allman Betts Band, Tal Wilkenfeld, Larry McCray, Luther Dickinson, Cody Dickinson, Alex Orbison, Jimmy Hall, Jackie Greene, Ally Venable & Anders Osborne
Allman Betts Family Revival
Featuring Devon Allman, Duane Betts, The Allman Betts Band, Tal Wilkenfeld, Larry McCray, Luther Dickinson, Cody Dickinson, Alex Orbison, Jimmy Hall, Jackie Greene, Ally Venable & Anders Osborne
Nov
26
, 2023
Allman Betts Family Revival
Featuring Devon Allman, Duane Betts, The Allman Betts Band, Tal Wilkenfeld, Larry McCray, Luther Dickinson, Cody Dickinson, Alex Orbison, Jimmy Hall, Jackie Greene, Ally Venable & Anders Osborne
Date

Nov

26

, 2023

Event Starts

7:30 PM

Availability

On Sale Now
Event Details
GIBSON presents …….. The Allman Betts Family Revival
It's hard to believe that it's been 7 years since Devon Allman put together a show at the Fillmore in San Francisco to celebrate the life of his father Gregg Allman. What started as one night of the Devon Allman Project featuring Duane Betts along with a bunch of guest artists has turned into a one-night festival visiting 18-20 cities a year.
This year we are especially excited to announce the official rebranding of the Allman Family Revival to the Allman Betts Family Revival. We have programmed and array of guests who will perform two sets - one featuring songs by Gregg Allman and one featuring songs by Dickey Betts. Enjoy listening to the hits along with the deep cuts from their legendary Allman Brother's catalog performed by Anders Osborne, Luther Dickinson & Cody Dickenson (North Mississippi Allstars), Jimmy Hall (Jeff Beck, Wet Willie), Jackie Greene, Larry McCray, Orbi Orbison, Ally Venable, Devon Allman, Duane Betts, and the Allman Betts Band featuring the Tal Wilkenfeld on Bass (Jeff Beck). There will also be some incredible artists that will join us in select cities including Sierra Hull & G Love with more to be added.
The tour will also welcome back The Brotherhood of Light for the otherworldly visuals Allman Brothers fans experienced at the height of their career.
The Allman Betts Family Revival is nearly three action-packed hours that will leave you with a great musical experience and warmness in your heart. Join us as we celebrate one of the greatest bands in the world.